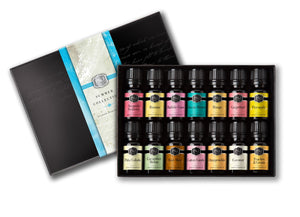 Brand: P&J Trading
Color: Clear
Features:
14 - 10ml glass amber bottles with easy dispensing euro dropper (dropper inset in bottle) caps. 10ml = .33oz. Please see Product description for a listing of all oils included in this set.
Uses include: all soap bases; candle waxes (works exceptionally well with soy wax); Perfume; unscented incense sticks or cones; baths; bodycare and haircare formulations; aroma diffusers; homemade cleaning products; or existing unscented products.
P&J Premium Grade Fragrance oils are highly concentrated, enhanced formulations designed by our IFRA certified master perfumer. Vegan; Cruelty-Free; Gluten-Free
Our Summer Set of 14 features our most classic summertime aromas delivered to you in a beautiful gift box.
Flash Points >200
Publisher: P&J Trading
Details: Our "Summer" Set of Premium Fragrance Oils include 1 - 10ml bottle each of: Awapuhi & Seaberry, Banana, Bubble Gum, Coconut, Cotton Candy, Cucumber Melon, Orangesicle, Peaches & Cream, Root Beer, Ocean Breeze, Pina Colada, Grapefruit, Mango, and Pineapple. These oils can be diffused or as used in your perfumery, candle, soap, bath, body or hair care formulations. Not intended for ingestion nor lip balm formulations.
UPC: 703856203235
EAN: 703856203235
Package Dimensions: 7.5 x 5.5 x 1.5 inches