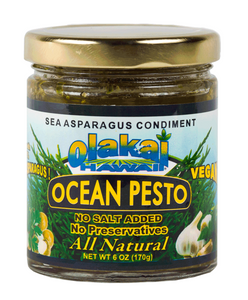 SERVING SUGGESTIONS:
1.  Use as a dressing for steamed baby green beans
2.  Toss with hot pasta for a quick and tasty side dish
3.  Mix with pasta and fresh vegetables, and refrigerate for pasta salad
4.  Use as a sauce for grilled seafood, fish or for homemade pizza.   Ingredients: Sea Asparagus, macadamia nuts, garlic, extra virgin olive oil, Italian parsley, sweet basil, lemon juice, black pepper.