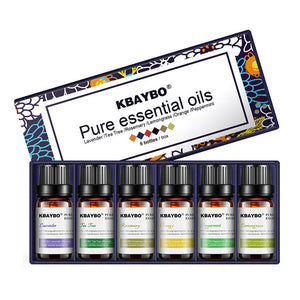 This product is suitable  for aroma humidifier ! 
Main ingredient: plant extracts
Capacity: 10ml/bottle
Fragrance:
6 bottles/box (6 Kinds Fragrance of Lavender, Tea Tree, Rosemary, Lemongrass, Orangre, peppermint)
Durability period:
3 years
Production Date:
Attached with   package
How to Use:
Suitable for heated aromatherapy  diffuser or atomize aromatherapy  diffuser, added drops of essential 
oil into the pure water then turn on  the device. There you can enjoy the  aromatherapy.
Please clean the water tank if  change the flavor of essential oil.
How to store:
Keep in cool place without the  sunshine; 
Keep away from children and pets