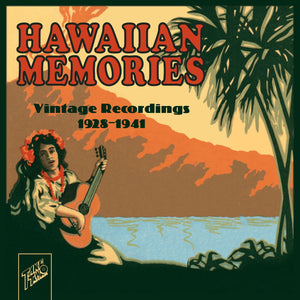 Features:
Genre: World Music
Release Date: 20-10-2008
Details: (2-CD set) 40 vintage Hawaiian classics, performed by both famous natives and mainlanders. A sure cure for the winter blues! This collection covers the years from 1928 to 1941, just prior to the attack on Pearl Harbor. In the 1930s, travel to this sparsely populated destination was by steamship, a form of travel for the affluent - especially during those depression years. Only a handful of hotels graced Waikiki at the time, among them the luxurious Royal Hawaiian Hotel. This hotel called, 'The Pink Palace,' dominated a barren landscape. Today it is virtually lost in the shadow of surrounding high rises.
In 1934 Harry Owens, a young Nebraskan, became the resident bandleader at the Royal Hawaiian. During his tenure there he achieved great fame for his polished arrangements as well as a composer of many hits, including Hawaiian Paradise and Sweet Leilani, which earned him an Oscar in 1938.
Travel to the islands was not required to enjoy live Hawaiian music. Eddie Bush was a native of Los Angeles. Others like Sol Hoopi, and Andy Iona left Hawaii for more lucrative work in Hollywood in nightclubs and movie studios. Dick and Lani McIntire also performed in The States. Lani wrote the touching ballad The One Rose which he sings here with the Dick McIntire group. Also on the mainland was Ray Kinney, an appealing tenor who can be heard on several recordings including To You Sweetheart, Aloha, another Harry Owens hit. Includes 20-page booklet with liner notes by Ian Whitcomb.
UPC: 734021050620
EAN: 734021050620
Package Dimensions: 5.4 x 4.9 x 0.5 inches
Languages: English