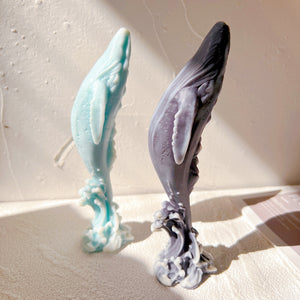 We pride ourselves in developing unique molds every month. Our molds are handmade via vacuum using durable and flexible, soft silicone. so it is easy to demold. But due to the very detailed pattern of our molds, very minor issues might arise as per below. These, however, would not affect your finished product's overall beauty and uniqueness. Please consider this carefully prior to purchasing,as we do not accept return or issue refund due to the following reasons:
<1>  Few bubbles on the surface of the molds — It is hard to avoid bubbles even when the molds are made in a vacuum especially when the design have a lot of details
<2> When molds do not stand on its own or expand after pouring wax, etc. — We use soft silicone hence the mold might not be able to carry so much weight. Please use a solid support around your mold to stabilize it and retain its shape.
<3> The wax would not level out on the top after pouring — As molds are handmade, there might be instances that the support lines on the mold might be slightly different in height. Please insert a folded/thickened paper or similar under the area that needs more height to level the top out.
Thank you very much for your support. Rest assured that we will continue to develop new and distinctive designs.