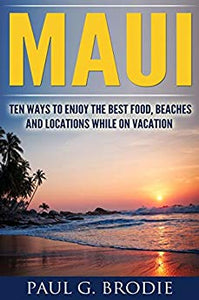 Enjoy the best of Maui with the most up to date information.
What if you could plan the best vacation possible to Maui? What if you could have an incredible vacation in Maui with a few simple steps? Imagine waking up in Maui with the best guide possible to enjoy the best Food, Beaches, and Locations while on Vacation in Paradise.
Thirteen-time Amazon bestselling author, Paul G. Brodie, covers ten ways to enjoy the best of Maui.

Here are a few things that you will get out of Maui.

In this book, you will learn.


Getting to Maui

•Where you should consider staying in Maui
•How to book your Flights and Car Rental at the Best Price


Arriving in Maui

•How to find the best places to complete your Grocery Shopping and enjoy Hawaiian foods that Paul personally recommends while in Maui


Enjoy Paul's Maui Foodie Guide

•Where to find the best Restaurants, Food Trucks, and Desserts across Maui with the most current restaurant listing and reviews in the longest chapter of the book


Discover Great Beaches and Gifts in Maui

•Where to find the best Beaches and Snorkeling
•Where to find the perfect Beach that Paul found on his 2016 vacation to Maui that is ideal for Relaxing and Snorkeling
•Where to find the best place to find Souvenirs (hint, it is only open one day a week)


Learn about the Best Excursions in Maui and what to bring with you

•How to enjoy the best Excursions to the Haleakala Crater and Road to Hana on your own without paying the high tour fees
•How to explore the Upcountry and Paia
•What items you should bring in regards to Cameras, Underwater Cameras, High Definition Video Cameras, and other items to maximize your memories while in Maui


Grab these bonuses when you download this book!


•BONUS: Travel Guide that includes Maps of Maui, Travel Tips, Grocery Shopping Lists, Map of Maui Beaches and Snorkeling Guide, Ranking of Paul's Favorite Maui Restaurants and Food Trucks, and additional maps of Haleakala National Park and The Road to Hana

•BONUS: Multiple pictures included in the book that feature Sunsets, Beaches, some of the best Food and Desserts from Maui's top Restaurants, Food Trucks, and Shave Ice

•BONUS: Find out about one of the best iPhone and Android app's to download to utilize while driving across Maui

•BONUS: Learn about the best way to withdraw cash while in Maui without having to pay bank fees and how much cash back each store will give you

•BONUS: FREE Audiobook

Buy this book NOW to have the most current information to have the best trip ever to Maui


Scroll up to the top of the page and click on the BUY NOW button and discover the insider secrets to enjoy the best of Maui